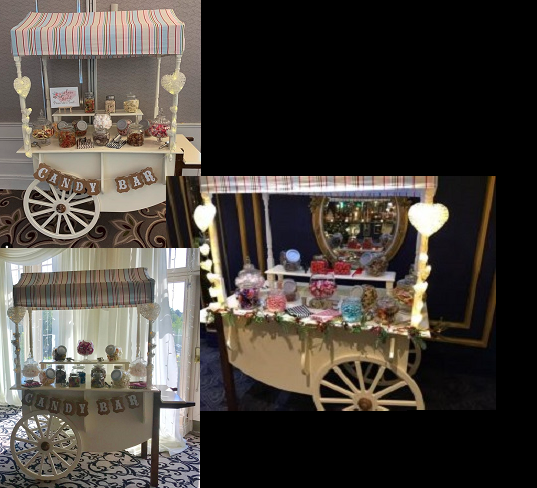 Candy Cart Hire 4 all your occasions are Ireland's leading supplier of Candy Cart hire and sweet buffet tables, whether you are looking to hire a candy cart or buffet table for your wedding, corporate event, christening, baby shower, party or anniversary.
4AllyourOccasions can provide you with the perfect candy cart hire set up for your event. We arrive to your venue, set up our candy cart or buffet table with your choice of sweets, our decorative jars, sweet bags, tongs, signs and bunting.
There is a full list of sweets to choose from, you shoud find plenty from the list below to satisfy everyone's taste.
fizzy cola bottles, vanilla bons bons, lemon bons bons, toffee bons bons, love hearts, jelly babies, fish & chips, marshmallows, fruit jellies, large snakes, sour kisses, strawberries, white mice, pink mice, wine gums, refreshers, lollipops, flying saucers, apple sours, fried eggs, milk bottles, pink & white mushrooms, juicy lips, giant cola bottles, giant banana's, milk shakes, chocolate disc, white chocolate disc, foam strawberries, jelly beans, fizzy cherry cola, ice cream cones